A to Z Challenge Letter M – MAGIC… Maybe.
Good morning everyone. I am currently 100% complete on visiting each and every blog on The A to Z Challenge master list. I found some new places, visited old friends and had a pretty fun day doing it. Once I got rolling I spent the day after the "L" post just visiting and reading. I have to tell you there are some fantastic blogs out there, with topics I wouldn't have though I could be interested in, but was. I can tell you all I didn't think I would do it but I was determined to try and today, well, everything came together for me.

SO! Here we go with the Letter "M " for Magic… Maybe.

I frequently describe things as being magic, or witchcraft, if it's something involving cloud storage or the internet I'll go to Voodoo as the descriptive term. I think we have, as a society, gone well past the point of being a sufficiently advanced technology.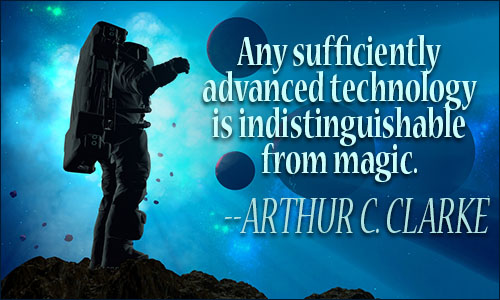 I'm not saying all of us don't understand some things, but none of us understand everything. I'll give you some examples of every day things I don't understand.
When I wake up, how is it that I know if there is, or is not, a dog where I am about to put my feet as I get out of bed? Come on now that's pretty important, stepping on a dog is mean.
When browsing my list of recommendations on Netflix, how does it know that of all the bad movie choices I could make Dog Soldiers would be at the top?
How do Spiders always know which room my wife is in?
How do pens work, and why do they sometimes not work when they obviously still have ink in them.
Why not just use a pencil.
How do the "You are here" maps in malls work? Are they spying on me?
When I go online to look something up how does it always know the other things I would be interested in?
Sometimes my Wife and I have a conversation we know nothing about later?
How did David Copperfield make the Statue of Liberty disappear? (Mad now don't do a search)
How is it we have access to so much, yet understand so little?


Alright, so some of those were silly. That is going to have to be ok though. We really don't understand how things work in the world we live in anymore. We know they do work, we use them every day, even take them for granted but on average we are clueless. I couldn't tell you, not really, how a computer works. I can fix them, both hardware and software but It's really just swapping parts. I certainly couldn't build a CPU. Same goes for a Cell Phone, Microwave, Digital clock or even an electric toothbrush (some are bluetooth capable).

I'm pretty sure the whole world runs on magic, maybe. how about you?