Balloon Animals: An Animal, An Artform, A Mess.
Once, long ago I thought it would be fun to learn how to make balloon animals. My eldest was maybe 3 at the time and I thought it would be something that would make me the coolest in her eyes. Internet… well it wasn't really a thing then. There were Dial-up BBS's at the time and chatrooms and such but YouTube was not there. to walk us through everything. I had high hopes of being able to at least make a simple dog.

I went to the store and got myself a bag of balloon, big bag of them the possibility of having balloon dogs all over the house was foremost in my mind. Went back home and blew up my first balloon. Here is what I got.

Being a fairly intelligent young man I immediately realized I had bought the wrong kind of balloons. Side note, I didn't try and return the balloons I had bought we used them for a water balloon fight a few days later as well as balloon ships. Anyway… back to the store I go, better prepared now having thought things through. I decided this time to go to a Store named Hastings, they sold movies, games, books and music. I thought I would be able to find something there to help me, a book at least. I found books, lots of books, for me this is distracting so I got a few books to read ANNNND… a book on how to make balloon animals which had balloons right in the kit, Perfect! Back home I go.
Sat down on the floor with a book and some balloons. Followed the directions, again and again and again… Here is what I got.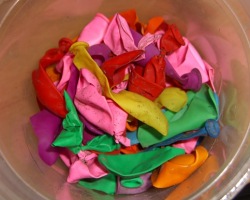 Anyway, Wife came home to a mess, I never did explain it to her, Or for that matter told my Daughter about what I tried to do (laugh) Recently one of her friends has been making balloon animals. She gave me one… I'm jealous (laugh) I had a thought though so with that here you all go….




So there is a few things you can do with balloons, go have some fun!