A to Z "D" is for dating…. Oh My
I'm not even sure where to start with this kind of like dating in the first place… I mean really where do you start. When I was young, several dozen lifetimes ago or so it seems you just kind of found people to date. You would leave your house and go out into the world to find strangers. That's really how it worked. For you kids swiping right and left… To decide if you wanted to go out, we just had to make a snap judgement to go on a date or not. If you did and it went badly you would just have to stop and point to an imaginary thing in the distanced screaming "oh my god what is that!!!" then push them into a culvert and start screaming like your being attacked while running away. Then changing your number, possibly moving and having your friends tell them you were eaten by the Chupacabra.

Its true though, you would go out with friends and maybe they had friends or something resembling a friend, like perhaps an old sock puppet or a dummy in a dress. Maybe a group goes out to see a movie or a bar then whoever you ended up sitting next to… well that was it… or you could swipe them onto the floor and move over a chair. like musical chairs only with more spilled drinks and maybe a slap to the face for being presumptuous. This went both ways of course. Saying things like this….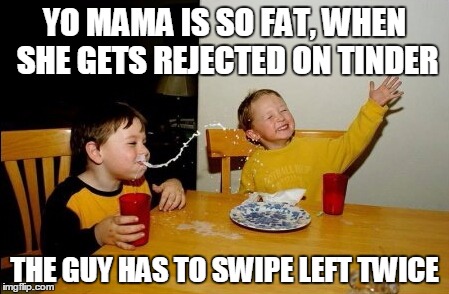 Honestly, what you had to do was talk to a person. Using actual words and depending on the response to make a quick judgement on if you thought you could possibly make it through a movie and a meal. If you were wrong… well… you could always excuse yourself to go to the restroom at some point. Once you've broken line of sight you'd duck into the kitchen knock down a waiter or two while leaping over trays of glasses as you dived out the back door to escape because what you didn't know was that your date had a laugh like a hyena with a helium tank attached to their trachea. I'm honestly surprised we haven't gone extinct, if not from the snap judgements then from tripping over the afore mentioned racks and falling into the fryer. Sometimes your possible mate seem to be normal, then something changes. Shoes get thrown out of moving vehicles, Nice jackets get stolen, Toothpaste becomes a weapon and suddenly you're wondering what the point of it all is.
Now though things are much better… You take out your Phone open 15 accounts on various different dating sites with witty names like, firepants and Scratch and itch… Even the 5 minute's talking to a person gave you more info then those aps do. You fill out a compatibility form and they match you to someone they think is good for you, except everyone lies a bit… Ok maybe more than a bit. I think in politics it's called Spin.. not sure what it's called in dating. Filling out the forms with pertinent info like favorite Ninja turtle, ideal place to be eaten by a snow weasel and How many times you've seen Twilight. You and your perfect match then send texts back and forth for a while through the app while you feel each other out… which is really more Spin. Next step is to meet to go out someplace to maybe grab dinner see a movie, sounds great. Then it happens… That helium tank Hyena laugh comes bursting out… Seems nothing really changes after all.